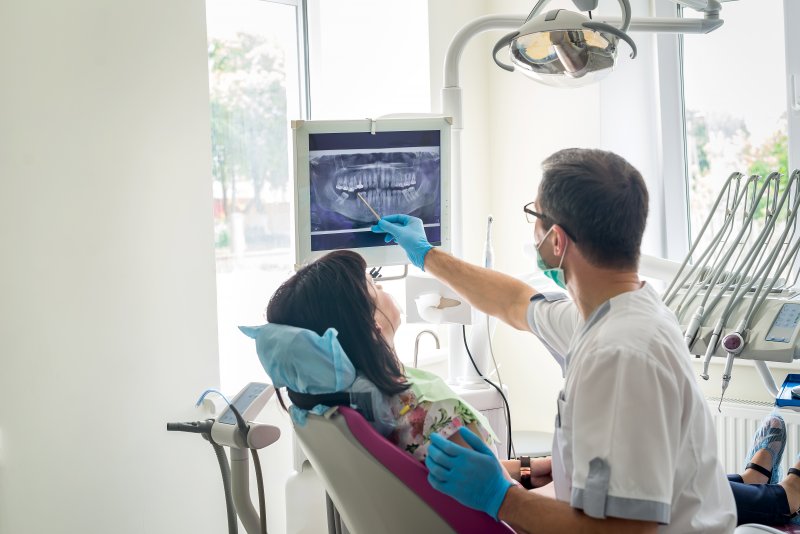 Are you struggling with a severely damaged or decayed tooth? Has gum disease negatively impacted your bone tissue, resulting in loose teeth? Do you need space to be made in your mouth for orthodontic treatment? Tooth extractions are a safe, effective, straight-forward procedure designed to address these concerns and more. Unfortunately, many patients are hesitant to move forward due to fear of pain or discomfort. If you're in the same boat, then keep reading to learn all about the tooth extraction process and why it is virtually pain-free.
The Two Types of Tooth Removal Procedures
Although "tooth extraction" is often used as an all-encompassing term, there are actually two types: a simple extraction and a surgical extraction. A simple extraction is used when a tooth is visible, while the surgical alternative is meant for teeth that are still below the gumline. The primary difference between the two is that a small incision is made into the gum for a surgical extraction, allowing your dental surgeon to access the underlying tooth. In both scenarios, however, the tooth will be extracted, the area will be cleaned thoroughly, and the space will be closed.
What You Can Expect Sensation-Wise During the Procedure
Whether you need a simple extraction or a surgical one, the first step is always the same: numb the area. Once the pain transmitters become numb, your dental surgeon will begin working. Since the anesthetics don't block the feeling of pressure, you may experience this sensation when the tooth is being rocked out of place. If this has been a problem for you in the past or you struggle with dental-related anxiety, don't hesitate to ask if you are a candidate for sedation dentistry. That way, we can take an extra step to ensure you are completely comfortable.
Post-Extraction Care
The days following your procedure, reducing your risk of infection and minimizing your discomfort is of the utmost importance. Therefore, you will be given an extensive list of aftercare instructions. Depending on your unique situation, a few of the below best practices may be included in yours:
Take painkillers as prescribed.
Relax for at least the first 24 hours after the extraction.
Do not rinse your mouth, spit forcefully, or use a straw.
Avoid poor dental habits, like smoking.
Stick to soft foods, like soup, yogurt, and applesauce.
Avoid the extraction site when you brush and floss.
Although having a tooth extracted initially sounds scary, extensive measures are taken before, during, and after your procedure to keep you as comfortable as possible. So, if you have been postponing this treatment, don't wait any longer!
About the Author
Dr. Rebecca Long's own smile-transforming experience from her family dentist inspired her passion for the field of dentistry, earning her dental doctorate from the University of Illinois at Chicago College of Dentistry. To continue to provide her patients with only the best, she completes countless hours of continuing education each year and undergoes advanced training at some of the nation's most prestigious institutes, including the Spear Education Center. If you are interested in learning more about the tooth extraction process or would like to schedule an appointment, visit her website or give her a call at 512-328-0155.