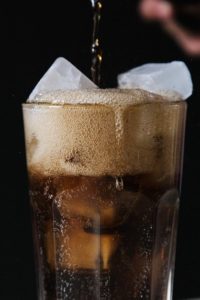 It can be difficult to resist chewing ice on a hot day. While the ice at the bottom of your glass might be a nice refreshing treat after finishing your drink, you can find yourself sitting in the dental chair at your emergency dentist in West Lake Hills. Whether you enjoy Shaved Ice, Snow Cones, or just chomping on an ice cube, you are opening the door to a dental emergency. Although you might have chewed ice countless times without an issue, here are a few facts that might make you reconsider the habit.
Causes of Chewing Ice
Believe it or not, chewing ice can be just as addicting as cigarettes. You might even have a favorite place to buy ice. Although it may seem like a harmless activity, incessant crunching can lead to serious dental issues that can ultimately ruin your teeth and gums.
The desire to chew on ice can be caused by various reasons; however, pica is a common culprit. It's a condition referring to a craving to chew on items that don't offer nutritional value. This compulsive habit is actually the most common form of pica, called pagophagia. Typically, it's a symptom of anemia, which is an iron deficiency.
Dangers of Chewing Ice
It's true, an ice addiction isn't as harmful as others, but it's a habit you'll want to break. Over time, your teeth will weaken, leading to chips and cracks. Your enamel can be permanently damaged as well as fillings or crowns. Once your teeth are compromised, you'll notice an increase in sensitivity to hot or cold foods and drinks. You might even develop reoccurring jaw pain, which can lead to a TMJ disorder.
Breaking the Habit
You can also help curve the craving by leaving ice out of your drinks. You'll lessen the temptation because it won't be sitting right in front of you. If you still can't stop the crunching, it's better to switch to Slushies instead of gnawing on ice cubes. Although it may still damage your teeth, it will be minimal when compared to larger chunks of ice.
If you still can't break the habit, it's time to see a physician. They'll check to see if anemia is driving your addiction. Your dentist will also create a strategy to protect your teeth.
Protect Your Smile Today
If you tend to chew ice, it's crucial you maintain your semi-annual dental appointments. Your dentist will monitor your teeth for signs of enamel loss and other issues caused by it. Although you want to cool down this summer, don't damage your smile by chewing ice.
About Dr. Rebecca Long
Dr. Long earned her dental degree at the University of Illinois at Chicago College of Dentistry. She regularly completes continuing education programs to provide advanced services. With a Fellowship in the Academy of General Dentistry, she can treat complex issues. If you need an emergency dentist, contact our office today for an appointment.