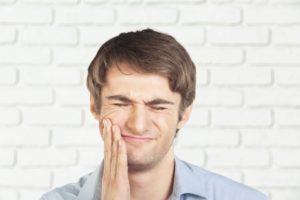 If your jaw begins to hurt on only one side, you might be alarmed and confused at first — that's a perfectly normal reaction. You might even worry that your jaw pain is signaling a heart attack! Fortunately, that probably isn't what is happening. There are a number of causes of one-sided jaw pain that, while they might warrant a visit to an emergency dentist in West Lake Hills, are not immediately life-threatening.
TMD
Your TMJ is the joint that connects your lower jaw to the rest of your skull. TMJ dysfunction (TMD) is a problem that affects how the joint functions and feels. It can cause pain in one side of the jaw or both. It may also contribute to headaches, neckaches, and a range of other unpleasant symptoms. There are many different possible ways to relieve TMD pain, and the best one varies from situation to situation. Your dentist can evaluate the problem and, if necessary, refer you to a specialist who focuses on treating TMD.
Sinusitis
In some cases, pain on one side of your jaw has nothing to do with the jaw or the teeth. Rather, it might be an issue with your sinuses. When they become inflamed due to a cold or allergies, they can swell up and place pressure on your teeth, causing dull and persistent discomfort.
Dental Problems
When a dental problem occurs on only one side of your mouth, it may bring sharp pain to both the teeth and jaw. Cavities, infections, and cracked teeth can all be responsible for this issue. Your dentist in West Lake Hills can evaluate the problem and provide appropriate treatment to relieve your pain and improve your oral health.
If you suspect that a problem with your teeth is to blame for your jaw pain, it is important that you seek treatment promptly. Unnecessary delays will only allow your condition to worsen. In some cases, an untreated oral infection can even lead to widespread systemic illness.
Other Possible Causes of One-Sided Jaw Pain
The above-listed problems are the most common causes of one-sided jaw pain. However, there are other, rarer conditions that could also be to blame. For example, there might be abnormal pressure on one of your facial nerves, or there could be an infection in your bone. There might even be a tumor or cyst growing in your jaw. Your dentist and your primary care practitioner can help you diagnose and treat these issues.
Jaw pain that occurs only on one side usually isn't serious — but it's always worth consulting with a qualified medical professional. They can guide you toward the best solution for long-lasting relief and improved health.
Meet the Practice
Dr. Rebecca Long is a Fellow of the Academy of General Dentistry. She is highly trained in a wide range of treatments, and she is proud to be able to provide prompt care to emergency patients. If you are experiencing jaw pain that you believe is related to a dental problem, she is ready to help you. Contact us at 512-328-0155 to learn more about our services or request an emergency appointment.