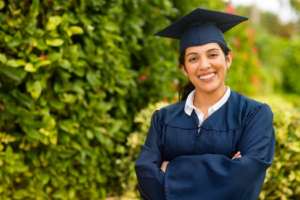 If someone close to you is about to graduate from high school or college, you're probably feeling pretty excited to see them walk across the stage on their big day. But you should also want your loved one to look their best as they're handed their diploma and smiling for the camera—which is why you should consider gifting them cosmetic dentistry! Here's more from your cosmetic dentist about the importance of having a healthy and bright smile within the workforce, along with some cosmetic treatment ideas that are perfectly suited for graduates.
The Significance of a Beautiful Smile
Indeed, your smile is often the first feature people notice about you—and when your loved one's name is called out and all eyes are on them, there's little doubt that their pearly whites will remain unnoticed. But while you should want them to look their best and capture the attention of all those around them, there's quite a bit of practical significance to graduating with a uniform set of teeth.
Simply put, a flawless smile won't just lead to optimal oral health and beauty, but it'll also enhance one's capabilities out in the professional world. People are social creatures, and we often find ourselves drawn toward others who display confidence and act self-assured—which is usually relayed through a radiant, gleaming smile! Conversely, we tend to avoid those who act withdrawn and are constantly frowning or appear sullen. Knowing that their teeth look and feel great will allow your grad to navigate job interviews, meetings, presentations, and more with confidence, grace, and relative ease.
Careers That Benefit from Healthy & Bright Teeth
Although it's rarely a requirement to have a beautiful smile for a job, with some notable exceptions being those who appear on television regularly, there are still many professions out there that greatly benefit from a uniform and healthy set of pearly whites. Some examples include:
Lawyers fighting cases
Businesspeople attending meetings
Teachers giving lectures
Repairmen and contractors working with property owners
Restaurant staff interacting with customers
Doctors and their staff assisting and assuring patients
Beauticians working with clients
Cosmetic Treatments That Are Perfect for Graduating Students
When it comes to cosmetic dentistry, there are all sorts of varying treatments capable of addressing a very wide range of aesthetic issues. Here are a few accessible and effective options:
Teeth whitening, which is a quick and non-invasive procedure capable of whitening one's smile by up to several shades.
Veneers, which are among the most comprehensive treatments available, and these tiny, capable coverings can address all sorts of issues including chipped, cracked, or stained teeth.
Cosmetic bonding, which is perfect for minor flaws, utilizes a composite resin that's molded perfectly over compromised teeth to improve their appearance.
Your graduate is about to enter the next chapter of their life, which is a pretty important one, and gifting them a brighter and healthier smile will undoubtedly give them the professional edge they need and set them up to succeed!
About the Practice
Under the leadership of Dr. Rebecca L. Long, the team at Westlake Hills Dental Arts is thrilled to serve the needs of patients and families in the Austin, TX area! They offer a wide range of cosmetic treatments that are certain to help the graduate in your family look their best for their big day! If you have any questions about their cosmetic services or you'd like to arrange a visit, feel free to contact the practice online or by phone for additional information or assistance: (512) 489-9157.