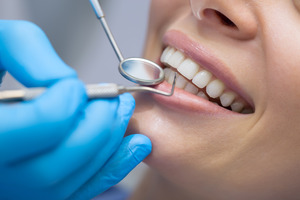 How often do you need to see your dentist for a cleaning? For many people, the answer is "twice a year." However, not all smiles are the same; some people might need to visit their dentists more often than that for the sake of their oral hygiene. Why are regular dental cleanings so important, and how many will you need in a 12-month period? Your dentist has provided the answers below.
What Makes Dental Cleanings So Important?
Most people are aware that brushing helps get rid of the plaque that forms on the teeth. But did you know that if plaque isn't removed in less than 48 hours, it can harden into tartar? This can be problematic since you can't get rid of tartar on your own, and it can eventually lead to painful cavities. However, your dentist can locate and scrape away tartar before lasting harm is done to your smile.
Additionally, having your teeth cleaned by a professional reduces your risk for gum disease. While the early symptoms of gum disease may not be too concerning, advanced forms of the condition can cause you to lose your natural teeth. Professional cleanings help you keep your gums healthy.
So How Often Do You Need to See the Dentist?
As noted above, it's usually recommended that you visit the dentist at least two times a year, which means once every six months. But what if you need to have your teeth cleaned more often than that? More frequent oral hygiene appointments may be necessary if:
You have already suffered from gum disease or other oral health issues in the past.
You have a dry mouth, so there's not enough saliva to keep the bacteria that contribute to tooth decay in check.
You are physically unable to brush your teeth as thoroughly as you need to.
Don't worry; the question of whether or not you should have more than two dental cleanings a year isn't one you have to answer on your own. Your dentist will be more than happy to explain what needs to be done to protect your smile.
What Happens During a Dental Cleaning?
Your dentist will use a small mirror to find plaque and tartar deposits, which are typically removed with a common dental instrument called a scaler. Since there might be food particles or other harmful substances caught between your teeth, flossing will also be performed. Lastly, your smile will be polished to get rid of stains.
A dental cleaning can make all the difference for your oral health. If it has been a long time since your last cleaning, you should fix that as soon as possible by giving your dentist a call.
About the Author
Dr. Rebecca Long went to the University of Illinois at Chicago College of Dentistry, and over the course of her career, she has completed more than 600 continuing education hours. She maintains a judgment-free environment at Westlake Hills Dental Arts in Austin; no matter how many dental cleanings you need each year, she'll make sure that each appointment is as comfortable and enjoyable as possible. To schedule a consultation with Dr. Long, visit her website or call (512) 489-9157.