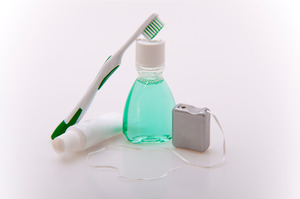 Living on your own at a college dorm naturally comes with a lot of freedom, but it also comes with a significant amount of responsibility. You need to be mindful about making the right choices for your overall health. One important step you can take is to put together a dental kit to ensure that you can properly care for your smile. Below are 5 essential items that your dentist recommends putting in your dental kit before you head off for college.
1. Toothbrush
You can probably already guess that no dental kit is complete without a toothbrush; the real question is what kind you should use. Manual and electric toothbrushes can both be highly effective when it comes to removing plaque, but many people find electric ones easier to use. Also, you should make sure that the head of the toothbrush has soft bristles that won't be too harsh on your enamel.
2. Toothpaste
A toothbrush won't do you much good without toothpaste. Remember that the brand you choose should contain fluoride if you want to give your teeth the best possible protection against cavities. Also, you may want to look for a specific kind of toothpaste based on your dental situation. For example, Sensodyne can be a good choice for anyone that has teeth that are more sensitive than normal.
3. Dental Floss or a Flossing Alternative
Did you know that a toothbrush can only reach around 65% of the surfaces of your teeth? In order to clean the remaining 35%, you need to start flossing at least once a day. Waxed floss tends to have a smoother feel, but unwaxed floss can be easier to move around since it's thinner.
If you find it difficult to use traditional floss, there are other options you can consider, such as dental picks or oral irrigators. Your dentist can go over your choices with you to help you figure out which one is the best choice for maintaining oral hygiene.
4. Mouthwash
Lots of people use mouthwash to stave off bad breath, but that's not the only benefit; it can also help you keep the level of harmful bacteria in your mouth under control. Look for a mouthwash that has antiseptic properties and contains fluoride.
5. Tongue Scraper
Most of the bacteria in your mouth gather on your tongue, so you can't neglect this area when it comes to your oral hygiene. Pick up some tongue scrapers and be sure to use them after you've finished brushing.
A well-stocked dental kit can go a long way toward helping you avoid oral health issues at college. Be sure to speak to your dentist to see if they can suggest any other oral hygiene products that you might want to pack.
About the Author
Dr. Rebecca Long got into dentistry because it combines her interests in biology, healthcare, psychology, and community service. She is one of only 6% of dentists in the United States who has earned a Fellowship in the Academy of General Dentistry. She's always happy to give her patients advice about choosing oral hygiene products. To schedule a consultation with Dr. Long at Westlake Hills Dental Arts in Austin, visit her website or call (512) 489-9157.