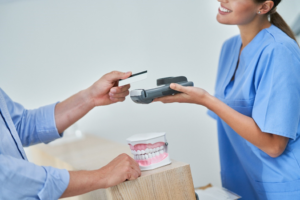 As the year comes to a close, many people are focused on holiday preparations in New Year's resolutions; however, it's also the perfect time to asses your dental insurance benefits and make the most out of your coverage. Dental insurance is by far one of the best ways you can protect your smile, and by proxy, your general wellness—but it's estimated that only a small portion of people with PPO plans reach or exceed their annual maximum! To ensure you don't fall into this category, here are a few things to keep in mind to help you maximize your benefits.
1. Know Your Plan Inside and Out
The first step in maximizing your dental insurance is understanding what your insurance plan covers. You should familiarize yourself with the details of your policy, including deductibles, copayments, annual maximums, and all covered services. Being aware of these specifics will help you make informed decisions about your dental care; but in any case, you should know that it's always going to be in your best interest to put your oral health first and seek out treatment when necessary; don't let financial implications deter you!
2. Attend Your Routine Checkups
Prevention is key when it comes to oral health; regular dental visits can help detect potential issues early on, and they're often issues you can't detect on your own. Most dental insurance plans fully cover preventive services like cleanings, exams, and X-rays. You should take advantage of these benefits by scheduling two dental checkups a year. Dentists and insurance companies alike understand that it's easier and cheaper to treat small problems before they have the chance to worsen!
3. Schedule Major Dental Work Strategically
There are some types of dental treatments that can take multiple visits to complete: crowns, implants, and others. Needless to say, the costs of these visits can quickly add up. However, there are things you can to do make things easier, such as scheduling dental work strategically. If there's a certain treatment that you need but it exceeds your annual maximum, you can schedule part of it for the following calendar year. This allows you to take advantage of two separate annual maximums, rather than just one—which is a pretty clever way to utilize your benefits! If you want to make the most out of your dental insurance coverage, following these tips will allow you to do so; and your dentist will be more than happy to review your plan with you to help you save however you can. Remember, a healthy smile is not only an asset to your overall well-being, but also to your wallet!
About the Practice
Under the leadership of Dr. Rebecca L. Long, the team at Westlake Hills Dental Arts has served patients and families in Austin, TX, and the surrounding area for several years, offering a wide range of preventive, cosmetic, and restorative services. They also proudly accept a wide range of dental insurance plans. If you have any questions about the blog or you'd like to schedule a visit for you or a loved one, feel free to contact the practice online or over the phone for further information or assistance. Telephone: (512) 328-0155.